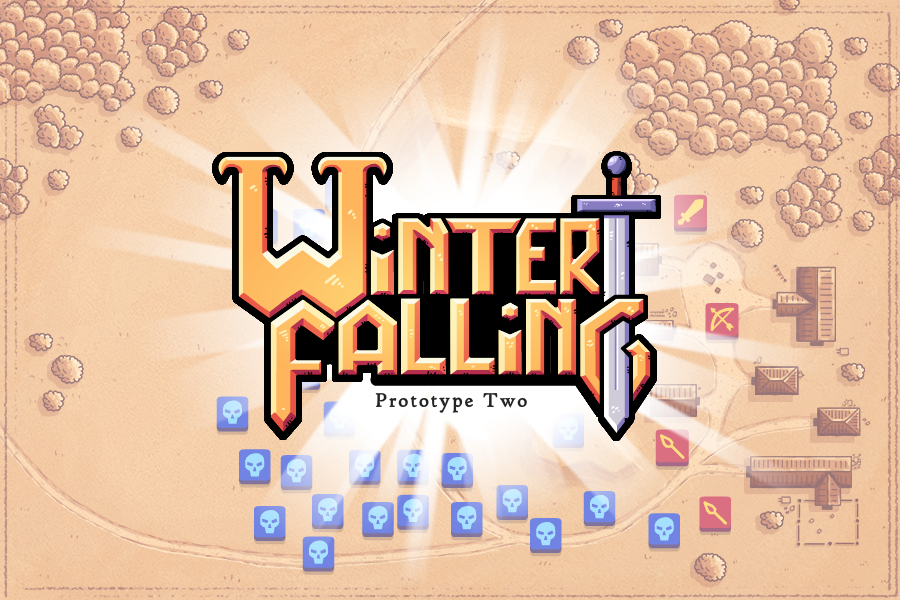 Winter Falling: Price of Life
Wishlist the game on Steam to be notified when it comes out - https://store.steampowered.com/app/1285060

This is the 2nd prototype of the full game! Follow the development - https://discord.gg/zGwhYvd

***Update 1.1***
Changed gold rewards system.
Ability to disband banners
Big balance changes
Upgrades restructured.
The king no longer hits charging units
Cheats:
press C to activate, once ON you won't score at the end of the game, so you might want to press Clear Data during pause)
press G to gain Gold
R to restart battle at will
press T to gain Time Shards
press 1-0 to switch levels at will
press D on battle preview screen for a surprise. Might wanna reload the page once you're done.
Winter Falling is a strategy roguelike inspired by FTL and Total War. The undead are coming - only you can stop them. Travel across the crumbling empire. Gather support. Make enemies. Lead troops in tense tactical battles, just you and your brain against the dying world... Make maps in the map editor, challenge friends!

Features:
COMMAND your army in battles: Battles play out in real time, but can play at your own speed, just pause and ponder. You will need to pause often, battles require many difficult decision, every second full of tension!
Plan your STRATEGY outside battles: Manage your army on the worldmap. Here you will gather support, rest, make friends or enemies. Will your army be well-fed and well-paid? Or will you loot cities to fill your chest? Will you save the empire?
CUSTOMIZE your army: You choose what orders to use, what items to take, what units to put into battle, which road to go.
Strategy focused on SKILL rather than chance: Every decision is yours to make. Every fault yours to bear. No chances to hit, no random unfair percentages.
TRAVEL across the crumbling empire: Explore, gather support, make friends and enemies. Learn the history of the land. A uniquely generated path for your every journey.
Be the Commander you WANT: Hundreds of tough choices await you. Will your army be a force for good? Or will you stir conflict and chaos in the land?
Craft YOUR BATTLES: Use the in-game map editor to create your own battles, share them easily with a copy-paste!
Inspired by the CLASSICS: FTL, Total War, Warhammer: Shadow of the Horned Rat, Invisible Inc, Atom Zombie Smasher.
Copyright 2020 Arkadiusz Rębacz. This item is not authorized for posting on Steam, except under the Steam account named Arkadiusz Rebacz.